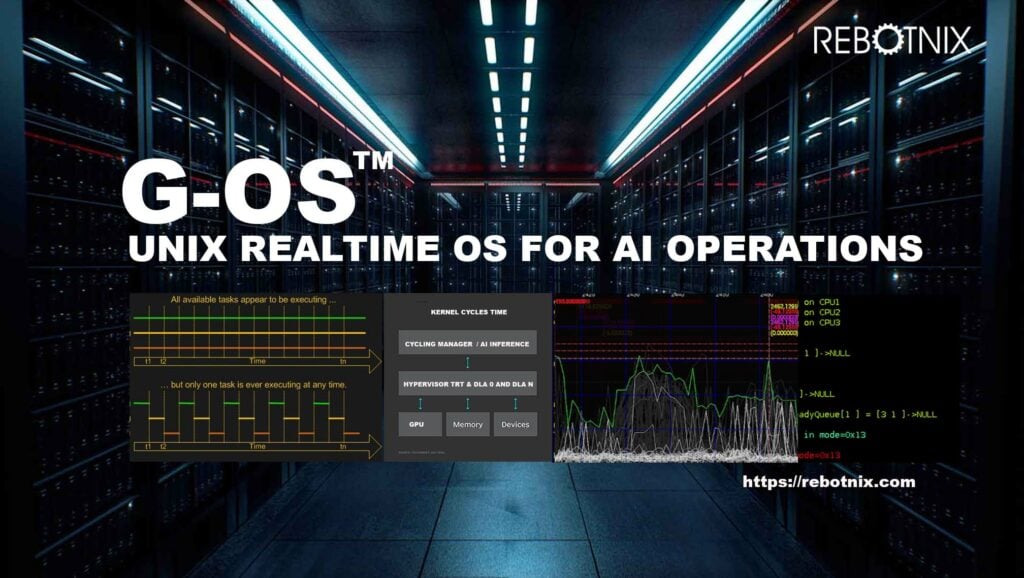 REBOTNIX G-OS™ is a real-time operating system based on the unix ARM64. We see a very high demand for real-time applications in the field of artificial intelligence.
Currently, real-time developments are not synchronised with the available frameworks and software and hardware accelerators. Thus, G-OS is currently developed for the NVIDIA Jetson platform NX (8 GB & 16 GB), AGX (32 & 64 GB) and the new coming AGX Orin.
A direct implementation of through a kernel hypervisor ensures that the guaranteed processing time for inference can be maintained and distributed across multiple nodes, CPU, GPU and DLA in modes int4,int8,fp16. G-OS will also be freed from all the necessary burdens of a standard ubuntu system and will focus exclusively on running highly optimised AI models on edge devices. Alternate, we ship G-OS also in a none-realtime version that has all optimized features for executing and pruning pre-trained models
G-OS can only be used on REBOTNIX GUSTAV edge devices (Link) as well as in the REBOTNIX low energy data centers (Link).
The first versions will be rolled out to registered partners and industrial customers.